"I've been a music geek since fifth grade."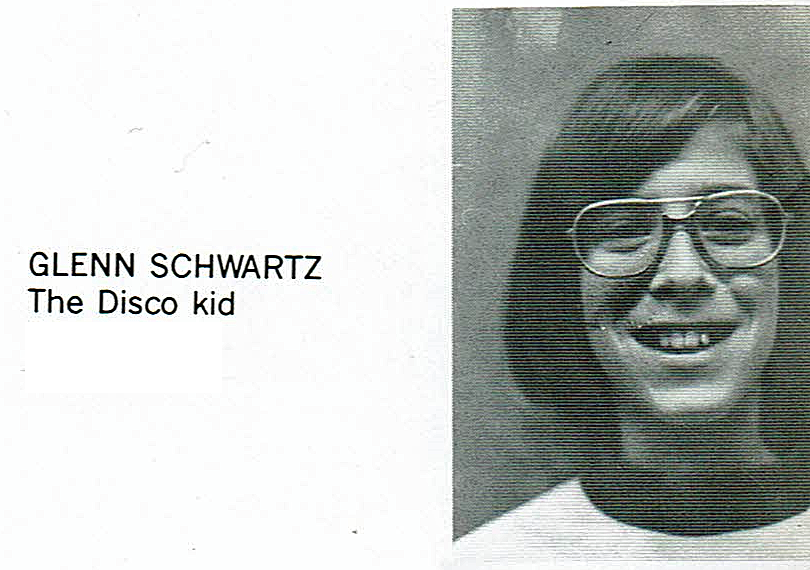 From my elementary school yearbook. For over four decades I've been bothered that "The" and "Disco" are capitalized while "kid" is not.
Glenn Schwartz is a 30-year music biz veteran who has worked at CBS Records/Sony Music, Zomba Recording Corporation, Warner Music Group and Omnivore Recordings. During his career he has worked with representatives for The Rolling Stones, Bob Dylan, Radiohead, Led Zeppelin, Bruce Springsteen, Prince, Neil Young, R.E.M., The Clash, Talking Heads, Aretha Franklin, James Brown, The Doors, Michael Jackson, Beastie Boys, Otis Redding, Joni Mitchell, Beck, Madonna, Ray Charles, The Ramones, Kanye West, Bjork, The Cure, Oasis, Jay-Z, Steely Dan, Frank Sinatra, The White Stripes, Wilco, Metallica, Black Sabbath, Fleetwood Mac, Eminem, Daft Punk and countless others.
In addition, Glenn is an accomplished performer and speaker. He is a charter member and former president of ImprovMasters, a Toastmasters International club that incorporates improvisation to help its members improve their public speaking confidence. He studied Advanced Improvisation at New York's famed HB Studios and has also studied at Second City in Los Angeles. He has performed stand-up comedy to sold-out crowds at Caroline's New York, Stand Up NY and Don't Tell Mama, as well as other comedy clubs. He was a finalist in Caroline's/Danny's Off Off-Broadway Comedy Contest, Stand Up NY's Funniest Gay Male Contest and he won the Gilda's Club Laugh-Off. In 2013 he came in second place at Toastmasters' Humorous Speech Contest. He's been reviewed several times by Backstage newspaper, who called him "very funny."
He presently lives in Los Angeles with his two dogs, Ringo and Winston.