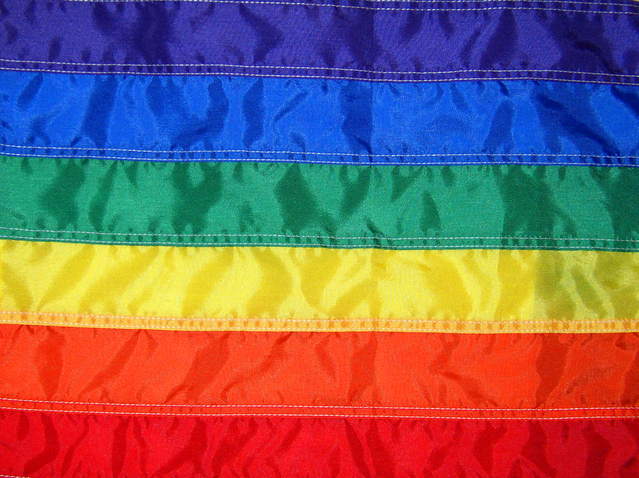 Today's Pride playlist focuses on music from the 1970s. After making it I noticed it was light on the ladies. More women will turn up as this series goes on. Here's what you'll hear on today's playlist:
"Lola" – The Kinks
"I know what I am and I'm glad I'm a man and so is Lola." You can interpret this line as meaning that I'm glad I'm a man and Lola is also glad that I'm a man, though if you consider the earlier line "I'm not dumb, but I can't understand why she walked like a woman but talked like a man" you'll realize that Lola is also a man. A man who made the top ten in 1970 and makes her presence known to this day.
"Rocket Man (I Think It's Gonna be A Long, Long Time)" – Elton John
Of course this playlist needs some Elton John. I recall reading an essay about "Rocket Man" some years ago where the author posits this song's lyrics are about a gay man. A man who is leaving his wife and children to live his life though loneliness that will surround him, at least initially. A man who is "not the man they think I am back home." And then there's the phallic imagery of a rocket. That's part of this writer's essay. Lyricist Bernie Taupin has never acknowledged this theory, as far as I know.
"John I'm Only Dancing" – David Bowie
In the traditional song "Frankie and Johnny," a young woman named Frankie sees her boyfriend dancing with another woman and shoots him. As Johnny falls to the floor, he tells Frankie he loves her and was telling this other woman about her. "John I'm Only Dancing" flips the script. John sees his boyfriend dancing with a woman, and the boyfriend explains that it's just dancing he's doing with the woman. Pretty rad for 1973.
"Walk on the Wild Side" – Lou Reed
Speaking of David Bowie, he co-produced Lou Reed's "Walk on the Wild Side," a song that opens with a verse about Holly Woodlawn, who hitchhiked across the United States and by the time she arrived at her destination, "he was a she." Somehow, this tale of "outsiders" became Reed's only pop hit. I love the song, though I don't know how Candy Darling was able to utter the title phrase with her mouth full.
"I'maman" – Jobriath
Jobriath was the first openly gay man signed to a major record label (Elektra).
"Jimmy's Got a Little Bit of Bitch in Him" – Funkadelic
That's one way to put it.
"I Got The" – Labi Siffre
Eminem's first hit was "My Name Is," the single version of which included lyrics one may consider to be homophobic. The music bed was built around a sample from Labi Siffre's "I Got The." Pity Eminem didn't know beforehand that Siffre is an openly gay man who refused to approve the sample use until Eminem changed the lyrics for the album version. Said Siffre "Dissing the victims of bigotry – women as bitches, homosexuals as faggots – is lazy writing. Diss the bigots, not their victims."
"Get Dancin'" – Disco Tex & the Sex-O-Lettes
Joseph Montanez Jr. became openly gay Sir Monti Rock III, who adopted the camp persona of Disco Tex, and with openly gay Frankie Valli & The Four Seasons producer Bob Crewe came up with "Get Dancin'," to the best of my knowledge the only top ten hit with the lyric "My chiffon is wet."
"Killer Queen" – Queen
Killer Queen. Queen. Freddie Mercury.
"At Seventeen" – Janis Ian
Janis Ian came out as a lesbian in 1993.
"A.C.D.C." – Sweet
She's got girls. She's got men.
"Ain't Nobody Straight in L.A." – The Miracles
Not true. I've met three straight people since I moved to L.A. in 2003.
"Sweet Transvestite" – Tim Curry
Sometimes I'm amazed by certain movie characters that catch on in the mainstream in a big way. Tim Curry's Frank N. Furter is one of them, though it took a few years from the 1975 release of The Rocky Horror Picture Show for it to happen.
"53rd & 3rd" – Ramones
The corner in a then gayish neighborhood where a Viet Nam War vet is trying to turn a trick.
"All the Time" – Barry Manilow
Barry Manilow publicly came out as gay in 2017.
"I Go To Rio" – Peter Allen
Peter Allen, Liza Minnelli's first husband, was in a relationship with a male model from 1974 to 1984, when the model passed away from an AIDS-related illness. Allen passed away from an AIDS-related illness eight years later.
"The Killing of Georgie" – Rod Stewart
In which a gay man dies from a gay bashing on 53rd & 3rd. Not your typical top 40 fare in 1977, and yet.
"Jet Boy, Jet Girl" – Elton Motello
Sung from the persona of a 15 year-old boy who likes to kiss, get head from, and wishes to penetrate another boy, this song surprisingly didn't make the top 40. Or top 100.
"Fuck Off" – Wayne County & The Electric Chairs
Considered to be rock music's first openly transgender singer, Jayne County wrote and sang this song that to me is THE anthem of LGBTQI+ people.
"I Was Born This Way" – Carl Bean
Openly gay Carl Bean had a hit on the disco chart in 1978 with this song about being openly gay.
"Glad To be Gay" – Tom Robinson Band
Rad.
"I Love the Nightlife (Disco 'Round)" – Alicia Bridges
Alicia Bridges came out as a lesbian in 1998.
"Muscleboys" – Mumps
Hey – there's a new compilation of recordings from gay punk band Mumps that just came out. Someone whose blog you're now reading worked on it. J
"Cherry Poppin'" – Mitch Ryder
With The Detroit Wheels, Mitch Ryder had a handful of hit singles in the 1960s, the most famous of which was his medley of "Devil With a Blue Dress On" and "Good Golly, Miss Molly." This song about his love of anal sex with other guys is not as well-known.
"Ever Fallen In Love (With Someone You Shouldn't've)" – Buzzcocks
Written and sung by Buzzcocks' bisexual singer and songwriter Pete Shelley.
"Instant Replay" – Dan Hartman
The late Dan Hartman was a gay man who kept his sexual orientation and HIV status secret form the public during his lifetime.
"You Make Me Feel (Mighty Real)" – Sylvester
On the other end of the spectrum is Sylvester, who was openly gay, outspoken, and refused to conform to the typical straight or gay presentation of one's self.
"There But for the Grace of God Go I" – Machine
Carlos and Carmen Vidal move far away from the Bronx so they can raise their newborn daughter away from the Blacks, the Jews and the gays. How do you think the daughter turned out?
"Go West" – Village People
Village People's openly straight lead singer Victor Willis said the lyrics he contributed to this song were not intended to be gay in any way, but as a gay man, it's hard to not hear the song about two people in love beginning a new life in a place that's peaceful and near the beach where they can be carefree and happy to not be about going west to California, particular gay mecca San Francisco. I'll also add that Village People's "Macho Man," "In the Navy," Y.M.C.A.," "San Francisco," and "Fire Island" sound kinda gay to me as well.
"Manimal" – The Germs
The Germs' lead singer Darby Crash went to great lengths to hide the fact that he was gay, so as not to alienate the group's fans. He took his own life in 1980, aged 22.
The Spotify embed link is still not working, so here is the link: https://open.spotify.com/playlist/4sRn5vjsgNdNm80iiSUf0M?si=ae606e31c882414a