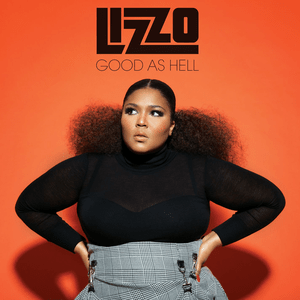 My favorite song of 2019 came out in 2016. Like most people, I slept on Lizzo's "Good as Hell" upon its initial release three years ago. I also slept on her "Truth Hurts," my #4 song of 2019, when it was released in 2017. Lizzo's first track to make Glenn's Ten was "Boys," which hit #1 in July 2018, just two months before my favorite 2019 artist after Lizzo, Billie Eilish, made her Glenn's Ten debut with "You Should See Me in a Crown." Eilish's "Bad Guy" is my #3 song of this year, breaking up Lizzo's hold on the top four. L-to-the-izzo's "Juice," my #2 song of 2019, debuted on Glenn's Ten on January 12, kicking off 49 consecutive weeks with at least one Lizzo track in my top ten, 22 of those weeks at #1. I'm sure both of those are records, something I would confirm if I weren't too lazy to look it up.
At #5 for the year sits the only artist in my year end top ten who made their Glenn's Ten debut in 2019, Megan Thee Stallion. (Megan's her real first name; Thee is not her actual middle name and Stallion is not on her birth certificate. I'm a Megan Thee Stallion truther.) On that hit, "Hot Girl Summer," Megan T. Stallion is assisted by Nicki Minaj, who is also at #55 with a solo number, and Ty Dolla $ign (Ty is short for Tyrone, his real first name; Dolla is not his actual middle name and $ign is not on his birth certificate. I'm a Ty Dolla $ign truther.), who is also at #100 assisting Kehlani. If you need assistance, call Ty D. $ign.
The remainder of the top ten boasts career bests for 21 Savage, Ariana Grande, Teyana Taylor, and Vince Staples, plus the first Glenn's Ten entry for Vampire Weekend since 2013. Other Glenn's Ten veterans making appearances this year include Bruce Springsteen, Liz Phair, Beck, Missy Elliott, Morrissey, Beyoncé, Rufus Wainwright, Smokey Robinson (yes, Smokey Robinson!), and Belle & Sebastian. Recent favorites such as Courtney Barnett, Cardi B, Grimes, Christine and the Queens, Robyn, Miranda Lambert, 21 Savage, BROCKHAMPTON, First Aid Kit, Chance the Rapper, Angel Olsen, The National and Kacey Musgraves are represented as well.
Enough blather. Here is my top 105 songs (5 by Lizzo, 100 by others, though one of those others with an assist from Lizzo) of 2019:
Good as Hell – Lizzo
Juice – Lizzo
bad guy – Billie Eilish
Truth Hurts – Lizzo
Hot Girl Summer – Megan Thee Stallion featuring Nicki Minaj and Ty Dolla $ign
WTP – Teyana Taylor
FUN. – Vince Staples
thank u, next – Ariana Grande
Harmony Hall – Vampire Weekend
A Lot – 21 Savage
bury a friend – Billie Eilish
Land of the Free – the Killers
Before I Let Go – Beyoncé
Keep the Change – Mattiel
Blame It on Your Love – Charli XCX featuring Lizzo
Drogba (Joanna) – Afro B
Hot Shower – Chance the Rapper featuring MadeinTYO & DaBaby
Rainbow – Kacey Musgraves
Wedding Bell Blues – Morrissey
Trip – Ella Mai
Tempo – Lizzo featuring Missy Elliott
Almeda – Solange
Melody of Love – Hot Chip
Anybody – Burna Boy
Young Republicans – Lower Dens
Motivation – Normani
Throw It Back – Missy Elliott
People – The 1975
Rylan – The National
Doin' Time – Lana Del Rey
BOY BYE – BROCKHAMPTON
Hello Sunshine – Bruce Springsteen
Summer Girl – HAIM
Good Side – Liz Phair
Saw Lightning – Beck
Fukk Sleep – A$AP Rocky featuring FKA twigs
It's Not Living (If It's Not with You) – The 1975
Binz – Solange
Something Keeps Calling – Raphael Saadiq featuring Rob Bacon
This Life – Vampire Weekend
wish you were gay – Billie Eilish
My Type – Saweetie
Sing Along – Sturgill Simpson
Now I'm In It – HAIM
Oh What a World – Kacey Musgraves
Lark – Angel Olsen
Sister Buddha – Belle & Sebastian
Uneventful Days – Beck
I've Been Waiting – Lil Peep & ILoveMakonnen featuring Fall Out Boy
Love Yourself  – Sufjan Stevens
Nothing Breaks Like a Heart – Mark Ronson featuring Miley Cyrus
Drip Too Hard – Lil Baby featuring Gunna
Ibtihaj – Rapsody featuring D'Angelo & GZA
Cuz I Love You – Lizzo
Megatron – Nicki Minaj
It All Comes out in the Wash – Miranda Lambert
Sunflower – Vampire Weekend featuring Steve Lacy
Blaxploitation – Noname
Hurry on Home – Sleater-Kinney
Western Stars – Bruce Springsteen
Seventeen – Sharon Van Etten
Crazy Classic Life – Janelle Monae
Unshaken – D'Angelo
7 Rings – Ariana Grande
Way Too Pretty for Prison – Miranda Lambert with Maren Morris
Hey Brother (Do Unto Others) – The Family Daptone
Earth – Lil Dicky
Make It Better – Anderson .Paak featuring Smokey Robinson
Lo/Hi – the Black Keys
Tarantula – Beck
all the good girls go to hell – Billie Eilish
Trouble in Paradise – Rufus Wainwright
The greatest – Lana Del Rey
Ordinary Pleasure – Toro y Moi
Twerk – City Girls featuring Cardi B
Ever Again – Robyn
BLACKJACK – Aminé
Red Bull and Hennessy – Jenny Lewis
I BEEN BORN AGAIN – BROCKHAMPTON
Money – Cardi B
Brown Skin Girl – Beyoncé, SAINt JHN, WizKid and Blue Ivy
Fucking Crazy – Robert Ellis
Eye in the Wall – Perfume Genius
sad day – FKA twigs
Between the Lines – Robyn
Nothing Is Safe – clipping.
Redesigning Women – the Highwomen
Tell Me (Doko Mien) – Ibibio Sound Machine
Sofia – Clairo
With My Whole Heart – Sufjan Stevens
Go – the Black Keys
Turn the Light – Karen O and Danger Mouse
Fortune – Wye Oak
holy terrain – FKA twigs featuring Future
Young Enough – Charly Bliss
Everybody Here Hates You – Courtney Barnett
Gone – Charli XCX featuring Christine and the Queens
Everyday – Weyes Blood
Capacity – Charly Bliss
Nights Like This – Kehlani featuring Ty Dolla $ign
No Bullets Spent – Spoon
Gonna Love Me – Teyana Taylor feat. Ghostface Killa, Method Man & Raekwon
My Name Is Dark – Grimes
Sociopath – Pusha T featuring Kash Doll
Strange Beauty – First Aid Kit
Click here to like Tunes du Jour on Facebook.
Follow me on Twitter.
Follow me on Instagram.