Gwen Stefani, the lead singer and lyricist of the band No Doubt, wanted to do a dance-oriented solo album, but when the band finished its Rock Steady tour in November 2002, all she wanted to do was sleep. "I wanted to take a break and was really burned out, but the record company were ready to go." Her label, Interscope, wanted her to work on her solo album with singer-songwriter Linda Perry, who was available for only five days.
Without the time to recharge, Stefani's anxieties about doing the record rose to the surface and she spent a lot of time crying in bed. She'd been with the guys in No Doubt for seventeen years at that point; could she do a record without them?
On their second day in the studio together, Perry presented Stefani with the music of a song she stayed up the previous night to write. Stefani was to come up with lyrics, and she took the speed with which Perry came up with the song as a dare, as if to ask her "What are you waiting for?"
That was the inspiration Stefani needed. She wrote the lyrics to "What You Waiting For?," addressing her fears about doing the record, her lack of inspiration, and the pressure the felt her label was putting on her. The song opens with Stefani referencing her bandmates and their years together – "What an amazing time / What a family/ How did the years go by?/ Now it's only me." Then the repeated background vocals of "tick tock" suggest the clock is ticking and she needs to get to work on this solo venture. Her nervous side sings "I'm worried if I go it alone," to which her confident persona responds "You never know, it could be great" and "Take a chance, you might grow."
"What You Waiting For?" was the first single released from Stefani's first solo venture, Love, Angel, Music, Baby. The album sold seven million copies worldwide and was nominated for a Grammy Award for Album of the Year. Hit singles from the album were "Hollaback Girl," "Rich Girl," "Cool" and "Luxurious."
Of the experience making the record, Stefani said "I think it's very important to put yourself in a situation that's uncomfortable to be able to grow."
Is there something you wish to do but have not yet started to tackle? What you waiting for?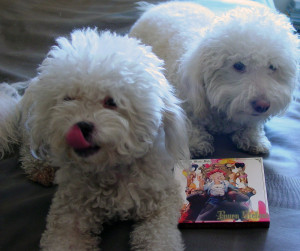 Friday is dance day at Tunes du Jour. We kick off this week's party with Gwen Stefani's "What You Waiting For?"