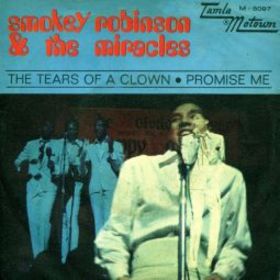 In 1966, Stevie Wonder and Motown producer Hank Cosby wrote a piece of music and recorded it. Wonder couldn't come up with any lyrics to go with the music, so he gave a tape of the song to fellow Motown singer-songwriter Smokey Robinson to see if he could come up with something. The music reminded Smokey of the circus, so he free associated and came up with the image of a clown. That reminded him of a story he heard as a child – the story of the opera Pagliacci, about clowns who must cover up their sadness, as their jobs required them to entertain and elate the public. Based on this idea he wrote the words to the song that became "The Tears of a Clown." He and his group The Miracles recorded the song. Smokey didn't think much of it, though it was included as the last song on the group's 1967 album Make It Happen. Two singles were released from that album – "The Love I Saw in You Was Just a Mirage," which reached #20, and "More Love," which reached #23.
In 1969, tired of touring, Smokey told his group The Miracles that he would be retiring from the group so he could stay at home with his family and focus on his job as a Vice President at Motown. That same year, a reissue of Smokey Robinson & The Miracles' "The Tracks of My Tears" made the top ten in the UK. Though the group had many chart hits in the US, "Tracks…" was only their second song to crack the top 40 of the UK singles chart, following "I Second That Emotion" a year earlier. Motown Britain wished to capitalize on the late but growing fame. Learning there was no new material forthcoming from the group, the label asked the head of a UK Motown fan club if she had any suggestions for a Miracles song that would make a good single. She suggested the last cut on the group's 1967 album Make It Happen.
In 1970, Smokey Robinson & The Miracles' "The Tears of a Clown" went to #1 in the UK. Seeing its success, Motown US released the song as a single stateside, albeit with a slightly updated mix. "The Tears of a Clown" became Smokey Robinson & The Miracles only #1 on the Billboard Hot 100 (though The Miracles would hit #1 one more time following Smokey's departure from the group.)
(Some bonus trivia: Stevie Wonder was initially brought to the attention of Motown Records by Miracles member Ronnie White.)
Today Tunes du Jour celebrates the 81st birthday of Smokey Robinson with a playlist of songs he sang and/or wrote, plus a tribute song, kicking off with "The Tears of a Clown."
Follow Tunes du Jour on Facebook.
Follow Tunes du Jour on Twitter.
Follow me on Instagram.