Sometime in the 1950s, a man named Peter Sterling Radcliffe wrote a country song he called "You're My First, You're My Last, My In-Between." For years he tried to get someone to record it but nobody was interested. Years later, Radcliffe was introduced to Barry White by arranger Gene Page. In the 1960s White was a session musician and producer who worked on records with The Bobby Fuller Four, Bob & Earl, Jesse Belvin and Viola Wills.
One Christmas when White was unable to buy Christmas gifts for his children, Radcliffe stepped in and bought toys for the kids. Relaying this story during an interview, White told the journalist "I was so grateful for that and said I would pay him back one day."
In 1972, Barry White wrote, produced and arranged "Walking in the Rain with the One I Love" for a female trio named Love Unlimited. The record hit #14 on the Billboard Hot 100. The following year White released his first solo album, I've Got So Much to Give, which produced the #3 gold single "I'm Gonna Love You Just a Little More Baby." The top ten single "Never, Never Gonna Give Ya Up" followed in 1974.
Now a successful recording artist, White listened to his friend Radcliffe's twenty-year old country song. Barry heard potential in the tune. "I changed some words, part of the melody and some of the title, but kept the chord structure."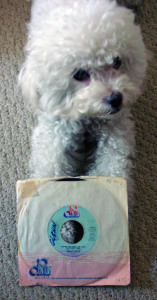 "You're the First, the Last, My Everything" appeared on White's Can't Get Enough album. The album's first single, "Can't Get Enough of Your Love, Babe," hit #1. The follow-up single, "You're the First, the Last, My Everything," went to #2, kept out of the top spot by Elton John's version of "Lucy in the Sky with Diamonds."
Pay it forward, people. You may be rewarded in more ways than the satisfaction of knowing you helped someone in their time of need.
Now if you'll excuse me, it's Barry White's birthday and I need to dance!
Click here to like Tunes du Jour on Facebook!