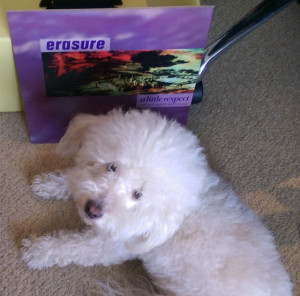 As a member of Depeche Mode, Vince Clarke made one album. As one-half of the duo Yaz (Yazoo outside the US), Vince Clarke made two albums. As one-half of Erasure, Vince Clarke has made more albums than he did with both of his prior bands put together!
About his Yaz partner Alison Moyet, Vince said "I don't think we could have continued working together without probably strangling each other."
About his Erasure partner Andy Bell, Vince said "In him I've found somebody that I feel incredibly comfortable with, who I could have married."
Vince also said "I'm a terrible dancer."
Well, I'm not a terrible dancer and today is Friday, which is dance day at Tunes du Jour. Vince Clarke turns 55 today, so let's celebrate the birthday of this self-proclaimed terrible dancer with twenty of his biggest dance hits, kicking off with "A Little Respect," because dammit, I'd like some of that right about now!

Click here to like Tunes du Jour on Facebook.
Follow me on Twitter: @TunesDuJour