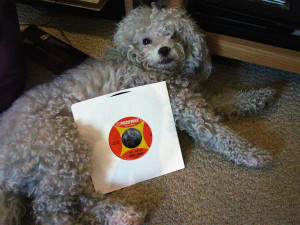 On January 13, 1962, Chubby Checker returned to #1 with "The Twist," a record he previously took to #1 in September of 1960, making it the only record to hit #1 in two separate chart runs.
The song was originally recorded and released in 1959 by its writer, Hank Ballard, and his band, The Midnighters, as the b-side to their single "Teardrops on Your Letter." A Baltimore DJ named Buddy Deane played "The Twist" on his television dance party program and got a good response. He told Dick Clark, host of American Bandstand about the tune.
Depending on what account you read, Ballard was unavailable to appear on American Bandstand or Clark was wary of Ballard, who previously hit with such lascivious songs as "Work with Me, Annie" and "Sexy Ways." Either way, Clark had Chubby Checker (born Earnest Evans; his stage name was a take-off on popular singer Fats Domino) record "The Twist."
Checker's version is an extremely faithful cover of the Ballard recording. It is difficult to tell them apart; even Ballard thought the Checker recording was his!
In its 1960 release, Chubby Checker's record launched a national dance craze. On the second release of the Chubby Checker version, "The Twist" became a worldwide phenomenon. Other twist hits included "Slow Twistin'," "Dear Lady Twist," "Twist, Twist Señora," "Twistin' the Night Away," "Percolator (Twist)," "Soul Twist," "Twist and Shout," "Hey, Let's Twist," "Twistin' Matilda (and the Channel)," "Twist-Her," "Bristol Twistin' Annie," "Twistin' Postman" and The Chipmunks' "The Alvin Twist" – and that was just in 1962!
Chubby Checker's "The Twist" spent one week at #1 in 1960 and two more weeks at #1 in 1962 before it was knocked from the top by…"The Peppermint Twist," by Joey Dee & the Starlighters.
Here are twenty twistin' favorites.
Click here to like Tunes du Jour on Facebook!