In the 1982 film Making Love, Michael Ontkean plays a doctor ("Zack") who cheats on his wife ("Claire"), portrayed by Kate Jackson, with Harry Hamlin ("Bart"), one of his patients. I guess I'm straight, because between the three main characters, I had a crush on the woman. Jackson was always my favorite of Charlie's Angels. I was more attracted to her than I was to Farrah Fawcett or Jacklyn Smith or Cheryl Ladd. On second thought, that's pretty gay.
Back in those days, there weren't many Hollywood movies with big-name stars that had homosexual storylines, unlike today, when the typical multiplex fare is chock-full of celebrities acting out LGBT plots, he wrote sarcastically. It was a more conservative time. Reagan was president. Most folks didn't want to see this pic. In her review of the Making Love in The New York Times, Janet Maslin wrote that the film "isn't for everybody. It isn't, for instance, for those who value seriousness, quality or realism above sheer foolishness, at least where their soap operas are concerned." I prefer sheer foolishness.
Ms. Maslin continued her rave review. "Once the cat is out of the bag, the movie turns rip-roaring awful in an entirely enjoyable way. There is, for instance, Claire's visit to one of Zack's male lovers, whose address she finds on a matchbook in Zack's closet. 'Could I ask you a stupid question?' she says, rather unnecessarily. 'Are you happy?' The movie maintains this pitch right through to its ending. The ending, incidentally, is one for the record books."
Roger Ebert was equally impressed. In his review he wrote "This movie has some of the worst dialogue one can imagine:
She: 'What about passion?'
He: 'What about support?'
She: 'What about betrayal?'"
Ebert also wrote "[Ontkean's character] visits a couple of gay bars populated exclusively by extras who look as if they should be posing for an Ah! Men! catalog."
Why Ebert was familiar with the Ah! Men! catalog I do not know, but he sure knows how to sell me on a film.
The movie was nominated for a Golden Globe Award, though not for the actors or director. Roberta Flack's theme song, written by Burt Bacharach, Carole Bayer Sager and Bruce Roberts, lost Best Original Song to "Up Where We Belong" from An Officer and a Gentleman. Fair enough, though the song "Making Love" is as pretty as Kate Jackson.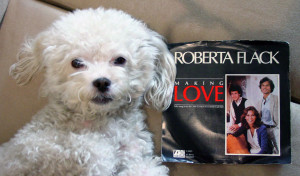 Today Roberta Flack turns 76 or 78, depending on where you read it. Here are twenty career highlights.
Click here to like Tunes du Jour on Facebook!
Follow me on Twitter: @TunesDuJour