In 1974, the year my grandfather gave me a radio and in doing so gave me something about which I'd be passionate, Linda Ronstadt released her cover of Betty Everett's "You're No Good." It became Ronstadt's first top ten single.
Her next single was her version of The Everly Brothers' "When Will I Be Loved," on which the duo sang back-up. I was familiar with a few of the brothers' hits – "All I Have To Do Is Dream," "Wake Up Little Susie" and "Bye Bye Love" – probably from Happy Days or the oldies radio station my parents played in the car. I liked those and I was curious to hear the original recording of the Ronstadt hit, so I ordered an Everly hits collection from the Columbia House Record Club.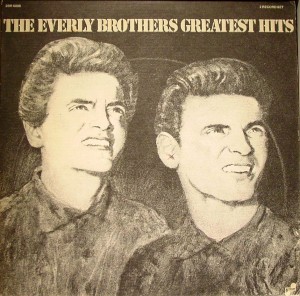 I liked their version of "When Will I Be Loved." There were other songs on the album I enjoyed as well – "Bird Dog," "Devoted to You" (which Carly Simon later covered) and "Let It Be Me" among them. The record included all of their hits on Cadence Records.
In 1960 the duo singed with Warner Brothers in what was reportedly a multi-million dollar deal. The hits continued – "Cathy's Clown" and "Walk Right Back" being two of the best-known ones.
They had their last top 40 hit in 1967, a forgotten track called "Bowling Green." They wouldn't hit the Billboard Hot 100 again until 1984, when a fan named Paul McCartney penned "On the Wings of a Nightingale" for them. (Paul also mentioned the brothers, Phil and Don, in his hit "Let 'Em In.") In total they had 26 top 40 singles and 35 Hot 100 singles, the most of any duo in rock history.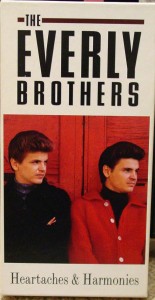 Phil Everly, the younger of the two brothers, died this past Friday, two weeks before his 75th birthday. Today's playlist is in remembrance of one of pioneers of rock and roll.