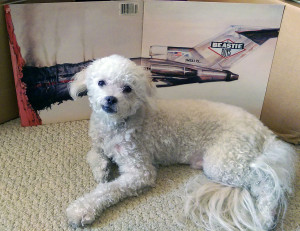 In 1986, a group that started out as a punk rock quartet released a single that mocked party anthems, and in doing so made music history.
The group is the Beastie Boys and the song is "(You Gotta) Fight for Your Right (To Party!)." Per the group's late founder, Adam "MCA" Yauch, "the song began as a goof on dumb rock songs" and a satire of drunken frat boys and the like. The trio recorded vocals and their friend, Rick Rubin, who produced Run-D.M.C.'s rock/rap breakthrough album Raising Hell, added loud drums and guitars. An iconic video was shot and received a lot of airtime on MTV.
"Fight for Your Right" took off. In early 1987 it reached #7 on Billboard's Hot 100, the group's only top ten single. It was hugely popular with the audience at whom it poked fun. Lamented the group's Michael "Mike D" Diamond, "The only thing that upsets me is that we might have reinforced certain values of some people in our audience when our own values were actually totally different. There were tons of guys singing along to 'Fight for Your Right' who were oblivious to the fact it was a total goof on them."
"Fight for Your Right" brought hip hop to the suburbs, with bored kids finding the same rebellion in rap that they did in punk. It is on the Rock and Roll Hall of Fame's list of 500 Songs that Shaped Rock and Roll. Among other accolades, it was named one of its release year's top singles by the Village Voice, New Music Express and Record Mirror, and was later named one of the 100 Greatest Singles Of The Post-Punk Era by Uncut, one of the 100 Greatest Songs Of All Time by Q, and one of 1000 Songs Everyone Must Hear by The Guardian.
The album from which "Fight for Your Right" was taken, Licensed to Ill, became the first rap album to hit #1 in the United States. It remained at the top of the album chart for seven weeks, becoming the best-selling hip-hop album of the 1980s.
As today is the 49th birthday of Beastie Boy Adam "King Ad-Rock" Horovitz, Tunes du Jour celebrates with a playlist of twenty of the trio's best.

Click here to like Tunes du Jour on Facebook!
Follow me on Twitter: @TunesDuJour