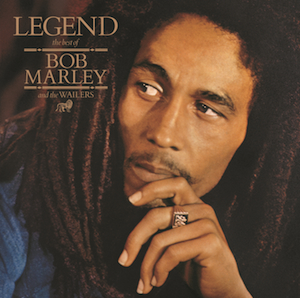 If you have only one reggae album in your music collection, there's a very good chance it's Legend by Bob Marley & the Wailers. It's the best-selling reggae title of all-time. In the US it's only the second album to spend more than 500 weeks on Billboard's weekly Top 200 album chart. (The first to pass that milestone was Pink Floyd's Dark Side of the Moon.) These accomplishments are all the more astounding when one considers that Legend is a greatest hits album consisting of 14 songs, none of which ever cracked the Billboard Hot 100 singles survey.
When deciding what songs should go on Legend, compiler Dave Robinson was determined to expand Bob Marley's renown. Stateside Marley (b. February 6, 1945) wasn't a very big seller. Robinson figured that many people were turned off by the subject matter of some of Marley's compositions, so he nixed the songs about herb. He nixed the songs about slavery. He toned down the presence of violence and the odes to Jah and Rastafarianism. He carefully selected a non-threatening photo for the album cover. He remade Bob Marley's persona into one of an upbeat spiritual man spreading love and positive vibes, which was but one aspect of his artistry. On top of that, the word "reggae" was not used in advertisements created for the collection. It was genre-less music designed to be listened to by everyone.
I don't point out the whitewashing of Marley as a put down. Quite the contrary, actually. There are useful marketing lessons here. Legend, released in 1984, three years after Marley's death from cancer at age 36, brought millions of consumers to reggae music. And the songs on the album are great.
The songs on Legend make up a large part of today's Bob Marley playlist. There are a lot more songs for further exploration.
Follow Tunes du Jour on Facebook.
Follow Tunes du Jour on Twitter.
Follow me on Instagram.