The band Queen released their eighth studio album, The Game, in 1980. The album's first single, "Crazy Little Thing Called Love," released eight months prior to the LP, went to #1 on the US pop charts. "Play the Game," released as a single just a month before the album dropped, failed to make the US top 40.
Backstage after a Queen concert in Los Angeles, a fan of the group, Michael Jackson, suggested to Freddie Mercury that "Another One Bites the Dust" should be the next single. The band were initially reluctant to do so, but the track was getting airplay on black radio stations and demand was increasing, so their label, Elektra, put it out.
Inspired by the bass line of Chic's "Good Times," "Another One Bites the Dust" went to #1 on the US pop charts. It also hit #2 on the Soul chart and on the Dance chart, the group's highest-placing songs on those formats.
A few years later Freddie Mercury and Michael Jackson recorded a few tracks together, including one written by Jackson and Randy Hansen entitled "State of Shock." The pair never completed the track; explanations given or conjectured being they both got too busy with other commitments and couldn't find time to reunite, Jackson objected to Mercury's cocaine use, Mercury objected to Jackson bringing a llama into the recording studio, Queen's record label fearing Mercury associating with Jackson would lead consumers to think he was gay (ahem). Whatever the reason, "State of Shock" was eventually released with Mick Jagger trading vocals with Jackson. It hit #3 in 1984.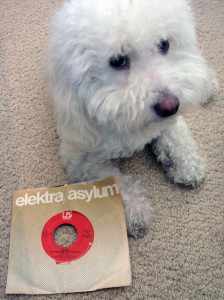 Today is Freddie Mercury's birthday, so we'll kick off our weekly dance party with "Another One Bites the Dust."
Click here to like Tunes du Jour on Facebook!