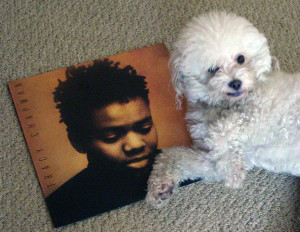 A few months back I mentioned that I am assembling a list of my top 100 albums of all-time. Presently hovering around #30 is Tracy Chapman's debut album. My introduction to the album was via its first single, the exceptional "Fast Car," a song that manages to captivate and impress me twenty-six years after its release.
Her singing on the track deservedly won Chapman the Grammy Award for Best Pop Vocal Performance, Female; however, it is the song's structure that wows me each listen.
Most pop songs start with two verses and then go into the chorus or they start with the chorus and then go into the verses. "Fast Car" starts with four verses, which lay out the situation in which our narrator finds herself. The second line tells us of her desperation to escape where she is – "I want a ticket to anywhere." The song's first line, and the first line of all but one of the verses, is "You got a fast car." This fast car will be her means of escape, with the word "fast" representing the urgency to start over. She doesn't yet know what she and the car's owner will do, but she throws out a few vague optimistic lines, all starting with the word "maybe" – "Maybe we make a deal," "Maybe together we can get somewhere," "Maybe we'll make something." It's worth the shot, because she has nowhere to go but up – "Anyplace is better / Starting from zero got nothing to lose."
In verse two, after singing "You got a fast car," she tells us she came up with a plan. She has a job and is saving money so they can climb into the fast car and get moving. They "won't have to drive too far" to "finally see what it means to be living."
In verse three she gives us some back story – her father's an alcoholic who won't look for work. Her mother "wanted more from life than he could give" so she left her husband and her daughter, leaving our narrator to quit school to take care of her dad. This is the verse that doesn't open with "You got a fast car," as this is the only verse in which she isn't singing of her hope for the future. This verse takes place in the past.
With the listener now knowing her situation, we fully understand her need to escape. The fourth verse lays it out: "You got a fast car / Is it fast enough so we can fly away / We gotta make a decision / Leave tonight or live and die this way."
Finally, we get to the chorus, where she reminisces about them driving together in the car, "speed so fast felt like I was drunk." Some drink to escape their problems; riding in a fast car is the narrator's way of escape. When she's in the car she expresses hope in the future, with the past in the rearview mirror and what lies ahead right in front of them. They are both in this together. The car's owner puts his/her arm around the narrator's shoulder, and our protagonist "had a feeling that I belonged / I had a feeling I could be someone, be someone, be someone." The chorus is all about the hope symbolized by the fast car. Interestingly, it is louder – both vocally and instrumentally – than the verses, reflecting the optimism in our narrator's words. However, by ending the chorus with the repetition of "be someone, be someone, be someone" she appears to be coming out of this daydream.
From this point on the song alternates a verse with the chorus. In verse five the narrator tells us that her partner is still without a job, but she remains optimistic, singing "I know things will get better."
The chorus comes back with one word altered. The first time it is sung, the chorus starts with "So remember we were driving, driving in your car." This time she sings "I remember…." One letter fewer, yet oh so telling. They were in it together; now she's noticing that maybe that is no longer their reality, making the lines "I had a feeling that I belonged / I had a feeling I could be someone, be someone, be someone" more heartbreaking.
In verse six the narrator recognizes that her present situation is a repeat of the situation she previously escaped – supporting an unemployed alcoholic, and just like her mother did, she knows she has to get out of this cycle. The verse opens with "You got a fast car," but that fast car no longer represents her means of escape. As such, the verse closes with her telling her partner to "take your fast car and keep on driving."
After a final round of the chorus, we get to the song's final verse. The listener knows the narrator's situation and we and she understand her need to escape it. She lays it out to her partner. The seventh verse is a repeat of the fourth verse, but as she cleverly did with the chorus, she changes one word – "we" to "you:" "You got a fast car / But is it fast enough so you can fly away / You gotta make a decision / Leave tonight or live and die this way." Starting over last time didn't work out as she planned, so she'll try again.
This amazing song was nominated for Grammys for Song of the Year and Record of the Year, but lost both to Bobby McFerrin's "Don't Worry, Be Happy." I'm usually not in favor of the death penalty, but whoever voted for the McFerrin song over this one should fry. The woman living in poverty, taking care of her alcoholic unemployed partner should not worry and be happy? Fuck you!
The Tracy Chapman album was nominated for Album of the Year, but lost to George Michael's Faith, which is around #31 on my top albums list.
Tunes du Jour recognizes the great Tracy Chapman, who turns 50 today.