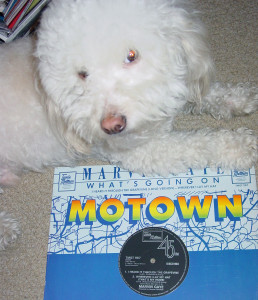 By 1966, Barrett Strong, the singer on Motown Records' first hit single, "Money (That's What I Want)," had the core of a song based on expression that emanated from the Civil War era. Slaves in the United States passed along information via a "human grapevine." In Strong's time he often heard people passing along gossip, saying they "heard it through the grapevine." With that line as the chorus and a bass line, he brought the song to Norman Whitfield, who added lyrics about someone who hears gossip that their lover is unfaithful and will leave him/her for another lover.
Whitfield produced a version of their new song, "I Heard It Through the Grapevine," with Smokey Robinsons and the Miracles, but Motown chief Berry Gordy, Jr. rejected it.
In 1967, Whitfield entered the studio with Marvin Gaye. At the time Gaye was married to Berry Gordy's sister Anna. Gaye heard that Anna was being unfaithful to him. The lyrics surely resonated with him (though in (un)fairness, he was cheating on Anna). To wring more emotion out of Gaye, Whitfield had him perform the song in a higher key than he normally used. This did not sit well with Gaye, who is quoted in his biography as saying "Norman and I came within a fraction of an inch of fighting. He thought I as a prick because I wasn't about to be intimidated by him. We clashed. He made me sing in keys much higher than I was used to. He had me reaching for notes that caused my throat veins to bulge."
All may have been for naught, as Berry Gordy rejected the Gaye recording as well.
In June of 1967, Aretha Franklin went to #1 with her version of Otis Redding's "Respect." With that record as his model, Whitfield again brought "I Heard It Through the Grapevine" into the studio later that year, this time with Gladys Knight and the Pips. This version was faster than the versions he produced for the Miracles and Gaye, with the intention to "out-funk" Aretha.
Gordy reluctantly approved the Pips version for release. It rose to #2 on the pop chart and went to #1 on the r&b chart, where it remained for six weeks. It became Motown's biggest-selling single to that point.
The Gaye version ended up on his 1968 album In the Groove. The first single from that album, "Chained," hit #32 on the pop chart. "Grapevine" got the attention of some radio disc jockeys, who gave it airplay. Said Gordy, "The DJs played it so much off the album that we had to release it as a single."
Marvin Gaye's version of "I Heard It Through the Grapevine" was released as a single in fall of 1968. In mid-December it went to #1 on both the pop and r&b chart, and stayed on top of each for seven weeks, becoming Motown's biggest hit to date. The week this went to #1 on the pop chart, Motown had the top three hits (#2 was "Love Child" by Diana Ross & the Supremes and #3 was "For Once in My Life" by Stevie Wonder.) The company held onto the top three for four consecutive weeks. "I Heard It through the Grapevine" bookended the r&b #1 slot in '68 – the Pips' version was #1 on January 1 and Gaye's was #1 on Dec. 31.
By the time his "Grapevine" was released Marvin Gaye already had 23 top 40 pop hits. This was his first #1.
Gaye's version made Rolling Stone's list of the Greatest Songs of All Time and was inducted into the Grammy Hall of Fame.
"I Heard It Through The Grapevine" was the first collaboration between Barrett Strong and Norman Whitfield. The duo went on to compose "Papa Was a Rollin' Stone" and "Just My Imagination (Running Away with Me)" for The Temptations.
Marvin Gaye died at age 44 on April 1, 1984, shot to death by his father the day before his birthday. The gun used was a Christmas present from Marvin.