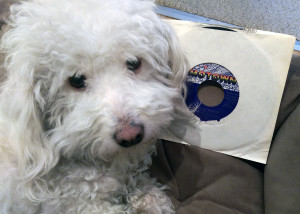 When his brothers/ fellow Jackson 5 members signed with Epic Records in 1975, Jermaine Jackson stayed with the quintet's label, Motown. After all, he was married to the label head's daughter. While The Jacksons, as the group was now known (Motown owns the name Jackson 5), racked up hits, Jermaine's solo recording career floundered.
In 1980, his luck changed. After seven years without a top 40 solo hit, Jermaine hit the top ten with "Let's Get Serious," thanks in large part to fellow Motown artist Stevie Wonder, who during the 1970s scored eighteen top 40 hits on the pop chart. Wonder produced, arranged, co-wrote, sang backup, and played keyboards and drums on the track.
Besides reaching #9 on the pop chart, "Let's Get Serious" went to #1 on the Soul chart, where it remained for six weeks. It became Billboard's #1 soul song of 1980. At #2 was his brother Michael's "Rock With You."
"Let's Get Serious" peaked at #2 on Billboard's Dance chart. It kicks off Tunes du Jour's weekly dance party on what is Jermaine Jackson's 61st birthday.

Click here to like Tunes du Jour on Facebook!
Follow me on Twitter: @TunesDuJour