I love my doggie Winston, though he often reminds me of Veda Pierce.
Veda Pierce is the daughter of the titular character of 1941 James M. Cain novel Mildred Pierce, which was turned into a movie starring Joan Crawford in 1945 and into a miniseries starring Kate Winslet in 2011. Veda manipulates people to get what she wants. So does Winston. Mildred works hard and provides Veda and her younger sister Ray with nice things, but it is never enough for Veda. Winston and his brother Ringo get treats after our morning walk, any time I leave the home without them, while I'm eating my lunch, after our afternoon walk and after our evening walk, in addition to two meals each day in which I mix dry kibble with freshly-baked food from the dog restaurant a few blocks down, but that is not enough for Winston. When I bring the doggies to visit the pet shop next door (every other day), he puts on a face to the employees there that says "Glenn never feeds me. Have some pity on a poor, hungry dog." Each employee there plies him with treats.
No matter how much Mildred does for her, Veda is never satisfied. I feel that way when we get into bed at night. I read before turning in. Winston looks at me with a face that says "Put down that book and turn out the light. I want to sleep." He'll stretch out and somehow take up the whole bed, though he weighs only 15 pounds.
SPOILER ALERT: Mildred comes home one day to find Veda in bed with Mildred's husband. I can see that happening to me. I'll come home one day and find Winston cuddling with my husband, who will be played by Joseph Gordon-Levitt.
Though at times Winston reminds me of Veda, that amounts to maybe ninety minutes out of the day. For the other twenty-two and a half hours Winston is well-behaved. Aside from pulling me on our walks, he doesn't do anything bad or wrong. During my afternoon naps he makes the best cuddle buddy. When I come home he greets me at the door with a big smile and his tail wagging. He doesn't try to steal my food. He plays with his brother, Ringo. Twenty-two and a half out of twenty-four hours he is loving and affectionate. I dream of getting that great a ratio from Joseph Gordon-Levitt.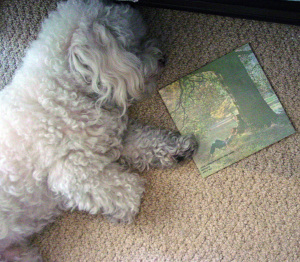 Winston didn't want to pose for this photo. What a Veda!

Today is the birthday of Winston's namesake, John Winston Lennon. His post-Beatles music just hit Spotify this week. Here are twenty tunes to get you started.
Click here to like Tunes du Jour on Facebook!