I need to do more cardio. I am presently at 19% body fat, which is fine compared to the general population, but in the gay world that makes me Precious.
I like doing cardio. I made a great workout playlist (lots of Robyn, Prince, The Partridge Family and Pet Shop Boys) and I have excellent headphones. I invested in a pair of Bose Quiet Comfort noise-cancelling headphones. When I have them on all other sounds are blocked, so I can get lost in "When Doves Cry" or "I Think I Love You" and not be distracted by people asking me how much longer I'll be on the elliptical or by the music the gym pumps, which is often Enrique Iglesias and Pitbull. I can't listen to Pitbull for health reasons. I'm lactose-intolerant.
The headphones are great on planes as well. I recently flew to New York and boy, are my arms tired from throwing them in the air to the rhythms of my great travel playlist (lots of Beatles, Gladys Knight & the Pips, Bay City Rollers and Pet Shop Boys). Even with the volume relatively low I couldn't hear the plane engines or the hysterical woman next to me.
She seemed fine when the plane took off, but at some point when I was lost in "Paperback Writer" or "Midnight Train to Georgia" or "Rock and Roll Love Letter" or "Go West" she lost her shit. I only noticed because a flight attendant tapped me to see if I'd like to buy some crackers (as if I could afford those extra calories!). When I pulled off the headphones to say "What?," I heard my fellow passenger crying hysterically to two other flight attendants, between sobs saying "I've got to get off this plane. Now!" They tried to calm her down, even offering her free crackers, but she retained enough of her wits to point out that crackers do not alleviate a fear of heights or enclosed spaces. She went into the bathroom and everyone sitting in the last seven rows could hear her screaming. It was very sad – nobody else had noise-cancelling headphones so they had to endure her hysterics. I put my pair back over my ears. "S-A T-U-R D-A-Y night!"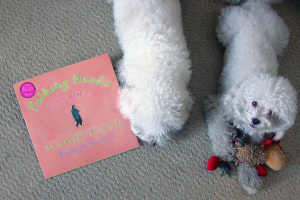 The only Radiohead I have on vinyl
One group not on my workout playlist but on my travel playlist is Radiohead. (How's that for a segue?) Did you know they got their name from a Talking Heads song? Yep. Today is the birthday of lead singer Thom Yorke, who released a new solo album, Tomorrow's Modern Boxes, last month. Today's playlist consists of twenty songs not on that album.
Click here to like Tunes du Jour on Facebook!