"If any one person invented soul singing it was Little Willie John."
– Peter Shapiro, The Rough Guide to Soul and R&B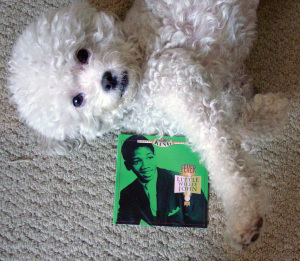 William Edward John was born on this day in 1937. As a child he sang with his family in a gospel quintet. At age 13 he hooked up with Johnny Otis' band and for the next few years he performed with various bands, his misbehaving resulting in his getting kicked out.
In 1955, at age 17, he was signed by King Records. Said label head Henry Glover "I heard Little Willie John at 5 o'clock and I was so impressed with him that at 8 o'clock I had musicians in the studio and I recorded him."
Though he had considerable insecurity about his height, his records were released under the name Little Willie John. His first single, "All Around the World," was a top five r&b hit in 1955.
The following year John released the original version of "Fever." While it became a bigger pop hit for Peggy Lee in 1958, John's version hit #24 on the pop chart and spent five weeks at #1 on r&b chart. Following its success John went on tour as a headliner. His opening act was the up-and-coming James Brown & His Famous Flames.
For a few years the hits kept coming, but in the early sixties, as his records became more pop-oriented and drenched in strings, sales declined. The lack of sales coupled with John's alcoholism led to his being dropped by King in 1963.
In August 1964, John was arrested for attacking a man with a broken bottle. Two months later, at a house party, Little Willie got into a fight with a 200 lb. six-foot-tall ex-convict named Kevin Roundtree. Roundtree punched John in the face. John got up from the floor and stabbed Roundtree, killing him. Following a trial and appeals, John was sentenced to eight to twenty years for manslaughter. He entered prison in the summer of 1966.
While in prison John fell ill and was confined to a wheelchair. On May 26, 1958, while in jail, he died of a heart attack at age 30.
His singing influenced James Brown and Prince, among others. His recordings have been covered by The Beatles, Fleetwood Mac, Madonna, Jack White and the Allman Brothers. He was referenced by Robbie Robertson on his 1987 song ""Somewhere Down the Crazy River."
In 1966 Little Willie John was inducted into the Rock and Roll Hall of Fame.
Now that you know a little about the man, check out today's playlist.
Click here to like Tunes du Jour on Facebook!