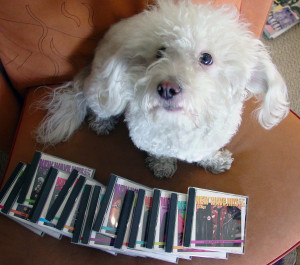 My friend and fellow improviser Josh asked me to compile a playlist consisting of my thirty favorite new wave songs. This proved challenging, for what is new wave? As a genre there is no clear definition of the term. For some it's any musical act from England that emerged between 1977 and 1985. For some it includes any band that wasn't punk that played at CBGBs. For some new wave was defined by the way the synths or guitars were played. For others it was a look.
I decided to not get too caught up on a precise definition; otherwise, I'd make myself crazy. For example, initially I was hesitant to include songs by Cheap Trick, Cyndi Lauper, Kid Creole and the Coconuts and even Pet Shop Boys (the latter because the song I chose was a poppy number that hit in 1988), but then I decided a case could be made for each to be considered new wave.
I limited myself to one song per artist. The limitation imposed by using Spotify to create the playlist proved to not be so bad – only one song I would put in my top thirty is not on the service, that being Yoko Ono's "Kiss Kiss Kiss." I see some people writing Spotify thank you notes already.
Herewith are my thirty favorite new wave songs. Did I leave out any of your all-time favorites? Tell me in the Comments.
Click here to like Tunes du Jour on Facebook!