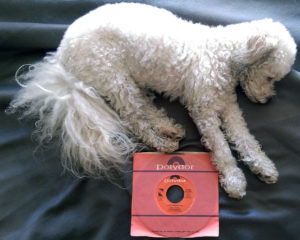 "I will never do a disco album. I'd prefer to do deodorant commercials. I didn't sing since I was ten years old so I could stand up like a moron and go 'Getfunkynow, getfunkynow, getboogie-woogie, getfunkynow'."
– Alicia Bridges, Sounds magazine
Alicia Bridges. You know, the lady who sang "I love the nightlife, I gotta boogie on the disco round." She co-wrote that song as well. That record is a disco classic, peaking at #2 on the Billboard Disco chart. It crossed over to the pop chart, hitting #5, and the r&b chart, where it reached #31. It was Bridges' only top 40 hit on any chart. Nowadays she shills for Arrid Extra Dry. Not really.
Today, Alicia Bridges turns 63 years old. Friday is dance day at Tunes du Jour, and we'll celebrate Ms. Bridges' birthday with a playlist she's bound to hate, full of disco hits, kicking off with "I Love the Nightlife (Disco 'Round)." Getboogiewoogie!
Oh, and what is a disco round?

Click here to like Tunes du Jour on Facebook!
Follow me on Twitter: @TunesDuJour
Follow me on Instagram: @GlennSchwartz