Tears for Fears, the duo consisting of Roland Orzabel and Curt Smith, released their debut album, The Hurting, in 1983. In their native England the album spawned three top five singles, "Mad World," "Change" and "Pale Shelter." In the US, their most successful single, "Change," peaked at #73 on the Billboard Hot 100.
When it came time to do their second album, they wanted to break the US market. Needing one more song to round out the record, the duo's producer, Chris Hughes, suggested Orzabel flesh out a song sketch he brought into the studio. Orzabel did so, and while he didn't think much of the finished piece, Smith and Hughes thought this is the song that would change their fortunes stateside.
This song, "Everybody Wants to Rule the World," was the first single released in the US from Songs from the Big Chair. It went to #1. The song that was the album's first single in much of the world, "Shout," was the second US single from the album, and the duo's second #1.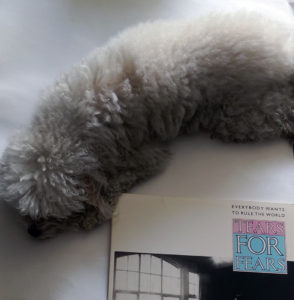 Today, Curt Smith of Tears for Fears turns 55 years old. Tunes du Jour's weekly dance party kicks off with a song on which Smith sings lead, Tears for Fears' #1 breakthrough hit "Everybody Wants to Rule the World."

Click here to like Tunes du Jour on Facebook!
Follow me on Twitter: @TunesDuJour
Follow me on Instagram: @GlennSchwartz
Save