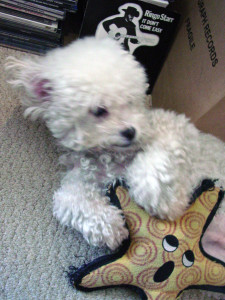 Ringo, Star
In December of 2010 I adopted two rescue dogs, whose photos appear in posts throughout this blog. Being rescues, I have no idea when their actual birthdays are, so I decided to celebrate their birthdays on the birthdays of their namesakes, Ringo Starr and John Winston Lennon.
Today, Ringo Starr turns 74 and Ringo Schwartz turns 7. Here are some interesting factoids about the former:
• Ringo was the first former Beatle to have back-to-back #1 singles, with "Photograph" and "You're Sixteen," both released in 1973. The only other former Beatle to have back-to-back #1s was Paul McCartney, who did so in the 80s with "Coming Up" and "Ebony and Ivory."
• Between 1971 and 1975 Ringo racked up seven top ten singles. John Lennon didn't have his seventh top ten single until 1981's "Woman," released after his death. George Harrison scored a total of five top ten solo hits.
• 1971's "It Don't Come Easy," Ringo's first top ten solo hit, was written by Ringo and George, though only Starr was credited on the record. The track was produced by Harrison, who plays on the record, as does Stephen Stills.
• The b-side of the "It Don't Come Easy" single, "Early 1970," was written by Ringo about his fellow Beatles. Verse one is about Paul, verse two is about John, and verse three is about George, who plays on the record.
• Starr's second top ten solo single, 1972's "Back Of Boogaloo," was written by Ringo and produced by George as well.
• "I'm the Greatest" was written by John, who plays and sings on it. Ringo also recorded songs written by Paul.
• "Photograph" was written by Ringo and George, with the latter receiving a writing credit this time. George had an affair with Ringo's then-wife Maureen.
• 1975's top three hit "No No Song" was written by David Jackson and Hoyt Axton, the latter of whom plays on Ringo's version. The song is about a man being offered drugs and alcohol after eschewing such vices. Said Ringo to Time magazine: "We were doing 'No No Song' [in the studio] with the biggest spliff and a large bottle of Jack Daniel's."
• "Snookeroo," the flip-side of the "No No Song" 45 and listed with that song on the charts, was written by Elton Jon and Bernie Taupin specifically for Ringo at Ringo's request.
• Ringo's most recent top 40 single, 1981's "Wrack My Brain," was written by Harrison about his frustrations trying to come up with a pop hit.
Tunes du Jour wishes Ringo the Beatle and Ringo the doggie very happy birthdays! As the majority of Starr's hits are not on Spotify, I present to you a YouTube playlist of his best work.