On July 4, 1982, I went with my then-friend Robin to see Diana Ross in concert at Giants Stadium. I hadn't been to the stadium before, but I figured on a typical day it was about a half hour drive from my home in New Jersey. As this was a holiday, I assumed there would be a lot of traffic, so I allowed for extra travel time. I didn't want to be late.
We got to Giants Stadium five hours before show time. We parked right by the stadium entrance, went in, and found our seats. It was a beautiful sunny day, so we tanned as we waited for others to join us.
After a few hours other people showed up. The stadium was mostly full when the first opening act took to the stage. The band's lead singer introduced them. "We're Frankie Beverly and Maze for all you white people who don't know who we are because you don't listen to black music." He sure knew how to charm an audience and win over new fans! I was momentarily ashamed that I spent my money to see and hear the white music of Diana Ross.
After Maze, Miles Davis performed. Would it have killed him to finish writing the songs before he came out? And hello, the audience is over here, not behind the curtain.
While Davis was playing, the couple sitting next to my then-friend Robin and me snorted cocaine. I'd never seen anyone do that before. They left after Davis finished, skipping the Diana Ross show altogether. That's all I needed to see to keep me from ever doing coke. I don't ever want to get to a point where I lose control over my thoughts and whereabouts and miss Miss Ross.
Finally, the main event. Diana Ross. Live. She performed all her big solo hits, except "Love Hangover," and 30+ years later that still irks me. She did a medley of Supremes hits. She changed her clothes a few times. It was great!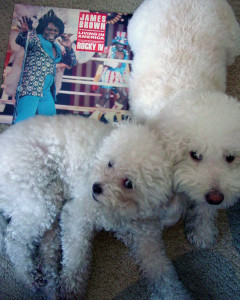 Friday is dance day at Tunes du Jour, and while I could open today's playlist with "Love Hangover" (Why, Miss Ross, why didn't you preform that song???), I'm going to go with a more traditional 4th of July choice, James Brown's "Living in America," one of the very few Brown hits that the man neither wrote nor produced. Happy holiday!