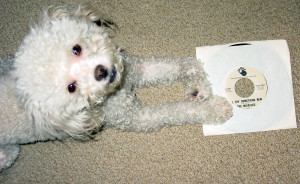 In 2011, I attended the Society of Singers' tribute to Smokey Robinson. The award was well-deserved, as anyone who has heard him sing knows that Smokey Robinson possesses a sweet, soulful voice, one that he has used to beautiful effect on records going back more than fifty years. The British band ABC paid tribute to him on their top ten single "When Smokey Sings." In their hit "Genius of Love," Tom Tom Club sing "No one can sing quite like Smokey, Smokey Robinson."
In addition to his singing talent, Smokey is a writer on many classics in the great American songbook. Chances are you know "The Tracks of My Tears," "My Girl" (click here for more about that song), "You've Really Got a Hold on Me" (originally recorded by Smokey's group The Miracles as the b-side of a 45), "The Tears of a Clown," "My Guy," "Shop Around," "Ooo Baby Baby," "I Second That Emotion," "Cruisin'," and "The Way You Do the Things You Do."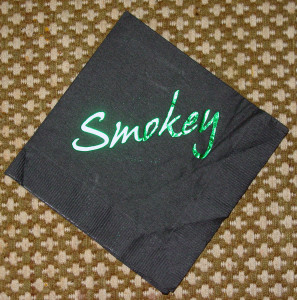 Here's my cocktail napkin from the Society of Singers event. I need to wash that placemat.
I met Smokey one time in the late 1980s. I was working at CBS Records in midtown Manhattan. Our offices were in the Black Rock building, which was also home to WCBS radio. Smokey had just done an interview at the radio station when I bumped into him in the building's lobby. I told him I enjoyed the article about him in the new issue of Rolling Stone, which I was holding. He said he hadn't seen it yet and took my magazine from me to look at it. I wouldn't let him keep my issue – I was a poor office clerk, after all – but he was gracious enough to sign an autograph for me.
Today is Smokey's 74th birthday. Enjoy this playlist comprised of songs Smokey sings and songs Smokey wrote or co-wrote, songs you know and songs you should know.