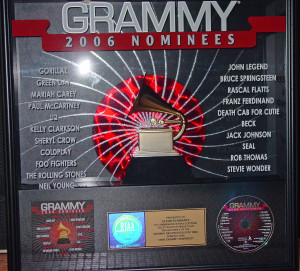 I've worked on nearly every Grammy compilation release since the first one.
The nominees for the 56th annual Grammy Awards were announced last Friday. The nominations always elicit strong reactions from music fans. I'm pleased with many of the Academy's selections (Go Kendrick Lamar and Daft Punk!) and puzzled by others (Ed Sheeran is nominated for Best New Artist. Last year he was nominated for Song of the Year. Was he pre-new then?).
Today's Tunes du Jour playlist consists of some of the tracks that have won Record of the Year. I choose to focus on the positive. I refuse to bash the Grammy voters for when they got it wrong (such as, for example, when they gave Record of the Year to Bobby McFerrin for "Don't Worry Be Happy." What the hell was that about? That record won over Tracy Chapman's "Fast Car." Are you kidding me?).
Herewith are some of the better Record of the Year winners.