Much has been written about "reparative therapy," procedures that attempt to turn gay people straight. There is a growing movement to ban the practice. But what about the reverse conversion therapy?
Leading sociologists such as Anita Bryant have long claimed that gay people recruit straight people into the homosexual lifestyle, a way of living that de-emphasizes sports, prayer and vaginas and instead focuses on appearance, hygiene and brunch. Recently de-classified documents show that there may be truth to this.
In 1984, three scientists – Mike Stock, Matt Aitken and Pete Waterman – wanted to see if they can convert millions of heterosexual men to homosexuals. Recognizing that doing this conversion one man at a time would be a time-consuming endeavor, they came up with a way to convert large swaths of men simultaneously. They did this through music.
Their experiment was a smashing success. They produced records that turned any man listening gay and any woman listening to a "fag hag." Their hits include Dead or Alive's "You Spin Me Round (Like a Record)," Rick Astley's "Never Gonna Give You Up" and Bananarama's "Venus." Have you ever heard any of these songs? Have you ever had brunch? Coinkidink?
Professor Nicolai Баграмя́н teaches Psychological Environmental Neurological Intertwined Studies at Moscow University. His extensive research brought the effects of Stock, Aitken and Waterman's work to light. "Many factors contribute toward giving a man a homosexual disposition. An alcoholic parent, attending boarding school, listening to Kylie Minogue sing 'The Loco-motion.' Gurl."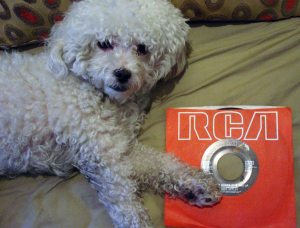 Rick Astley's "Never Gonna Give You Up" has the power to turn dogs gay.

SAW sold 40 million records. In their home country of the United Kingdom they landed over 100 top 40 singles. If you're an American and you've always wondered why every British man you meet seems gay, now you know why. They are.
The trio's scientific formula also had an effect on the acts they produced. Kylie Minogue went from Australian soap opera star to gay icon. Samantha Fox went from being a nice teenage girl whose topless photos, taken by her father, appeared in British newspapers to being one-half of a same-sex marriage. Pete Burns of Dead or Alive has yet to be an L, but he has variously been a G, B or T. Divine became more divine.
SAW produced UK top ten hits for such unforgettable performers as Hazell Dean, Princess, Phil Fearon, Pepsi & Shirlie, Sinitta, Jason Donovan, Pat & Mick, and Brother Beyond. Emboldened by their success, in 1989 the trio tried their hand at producing someone talented. The result was Donna Summer's first US top ten single in six years, "This Time I Know It's For Real." America was gayer.
Their work now done, the trio split up their partnership. In 1994, Stock and Aitken reunited for one more experiment – to up the gay factor of Bonnie Tyler's "Total Eclipse of the Heart." This resulted in a worldwide top ten single for the inimitable Nicki French, who went on to perform at Gay Pride events around the globe.
Per Dr. Баграмя́н, during the ten years between 1984 and 1994 Stock, Aitken and Waterman are responsible for making 577.1 million men around the world gay, thus increasing the popularity of mimosas.
The pop charts have been less gay over the last twenty years, due to a variety of factors (lawsuits, government intervention, Hinder). Today Tunes du Jour celebrates the birthday of Mike Stock and salutes his groundbreaking work in gay recruitment. Listen to this playlist of twenty of his records and be transformed. See you Sunday at The Abbey.
Click here to like Tunes du Jour on Facebook!
Click here to learn more about reparative therapy.