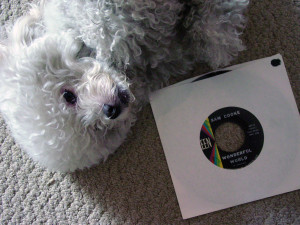 It's that time of year when music geeks such as I think about the I.R.S. I.R.S. as in It Really Shoulda, as in it really should been a top ten hit.
Eight years ago, a colleague from my Sony Music days, Rich Appel, created the I.R.S. countdown. Music fans submitted a list of songs that didn't make the top ten on Billboard magazine's Hot 100 but should have, in their opinion. Rich compiled the tallies to create the overall I.R.S. top 104. He's been compiling this survey each year since.
As for why a song should have been a top ten hit, that's left entirely up to the list-maker. On my list, I included records that are perfect or near-perfect melodically, lyrically and/or production-wise. I included songs that have withstood the test of time and are still part of the public consciousness years later. I included records that everybody thinks were top ten hits. I included tracks that would have been top ten hits except they didn't conform to Billboard's rules for chart placement at their time of release (e.g. they weren't available on commercial 7-inch singles or viral video play didn't count in metric measurements). I included singles by artists who hit the top ten with lesser songs. I focused on tracks that have pop appeal, leaving out fantastic recordings from some of my favorite acts, such as The Replacements and The Smiths – they were called "alternative" because they weren't pop.
My list for 2015 is below, followed by a Spotify playlist of those songs. Rich asks people submitting lists to put them in order, with #1 being the record one feels should have, more than any other, been a top ten hit. Ask me to do so tomorrow and my list will likely be in a different order.
For today, here is my I.R.S. 104. After the artist name I listed how high the song charted during its initial release. If the single hit the Hot 100 at a later date, I included that information as well.
You can hear the official I.R.S. 104 tally for 2015 on Rich Appel's radio show, That Thing, this coming weekend on RewoundRadio.com. Friday at 6PM Eastern he'll go from #104 to around #53 and Sunday starting at 6PM Eastern he'll pick up from where he left off and go to #1.
1. Wonderful World – Sam Cooke (#12, 1960)
2. Ain't No Mountain High Enough – Marvin Gaye and Tammi Terrell (#19, 1967)
3. River Deep, Mountain High – Ike and Tina Turner (#88, 1966)
4. I Only Want to Be with You – Dusty Springfield (#12, 1964)
5. Fortunate Son – Creedence Clearwater Revival (#14, 1969)
6. Cupid – Sam Cooke (#17, 1961)
7. Holiday – Madonna (#16, 1984)
8. Isn't She Lovely – Stevie Wonder (did not chart, 1977)
9. 1999 – Prince (#44, 1982; #12, 1983; #40, 1999)
10. Born to Run – Bruce Springsteen (#23, 1975)
11. It Takes Two – Marvin Gaye and Kim Weston (#14, 1967)
12. Little Egypt (Ying Yang) – The Coasters (#23, 1961)
13. I Want to Take You Higher – Sly & the Family Stone (#60, 1969; #38, 1970)
14. Into the Groove – Madonna (did not chart, 1985)
15. We Will Rock You – Queen (did not chart, 1978; #52, 1992)
16. S.O.S. – Abba (#15, 1975)
17. You've Got a Friend – Carole King (did not chart, 1971)
18. Hold On! I'm Comin' – Sam & Dave (#21, 1966)
19. Try a Little Tenderness – Otis Redding (#25, 1967)
20. The Way You Do the Things You Do – The Temptations (#11, 1964)
21. It's a Shame – Spinners (#14, 1970)
22. It's Gonna Work Out Fine – Ike & Tina Turner (#14, 1961)
23. Under My Thumb – the Rolling Stones (did not chart, 1966)
24. Opus 17 (Don't You Worry 'Bout Me) – Four Seasons (#13, 1966)
25. Me and Julio down by the School Yard – Paul Simon (#22, 1972)
26. Happy Xmas (War Is Over) – John & Yoko & the Plastic Ono Band with the Harlem Community Choir (did not chart, 1971)
27. I'm Every Woman – Chaka Khan (#21, 1978)
28. Viva Las Vegas – Elvis Presley (#29, 1964)
29. Do They Know It's Christmas? – Band Aid (#13, 1984)
30. Super Freak – Rick James (#16, 1981)
31. Mighty Love – Spinners (#20, 1974)
32. Stan – Eminem featuring Dido (#51, 2000)
33. So Far Away – Carole King (#14, 1971)
34. Christmas (Baby Please Come Home) – Darlene Love (did not chart, 1963)
35. Because the Night – Patti Smith Group (#13, 1978)
36. Big Yellow Taxi – Joni Mitchell (#67, 1970)
37. Candy Girl – New Edition (#46, 1983)
38. Brass in Pocket (I'm Special) – Pretenders (#14, 1980)
39. Everybody Hurts – R.E.M. (#29, 1993)
40. It Takes Two – Rob Base & DJ E-Z Rock (#36, 1988)
41. Heartbreak Hotel – the Jacksons (#22, 1981)
42. Young Hearts Run Free – Candi Staton (#20, 1976)
43. Valerie – Mark Ronson featuring Amy Winehouse (did not chart, 2007)
44. Rock and Roll All Nite (live) – Kiss (#12, 1976)
45. You Make Me Feel (Mighty Real) – Sylvester (#36, 1979)
46. L-O-V-E (Love) – Al Green (#13, 1975)
47. It's Raining Men – the Weather Girls (#46, 1983)
48. I'm a Slave 4 U – Britney Spears (#27, 2001)
49. You Shook Me All Night Long – AC/DC (#35, 1980)
50. Wake Up Everybody – Harold Melvin and the Blue Notes (#12, 1976)
51. Walk on the Wild Side – Lou Reed (#16, 1973)
52. Bring It on Home to Me – Sam Cooke (#13, 1962)
53. Pride (In the Name of Love) – U2 (#33, 1984)
54. Ain't No Stoppin' Us Now – McFadden & Whitehead (#13, 1979)
55. Move Your Feet – Junior Senior (did not chart, 2003)
56. Heroes – David Bowie (did not chart, 1977)
57. Werewolves of London – Warren Zevon (#21, 1978)
58. One Way or Another – Blondie (#24, 1979)
59. You Get What You Give – New Radicals (#36, 1999)
60. Heaven Must Be Missing an Angel – Tavares (#15, 1976)
61. Ain't Nobody – Rufus featuring Chaka Khan (#22, 1983)
62. You Can Call Me Al – Paul Simon (#44, 1986, #23, 1987)
63. I Can't Make You Love Me – Bonnie Raitt (#18, 1992)
64. Young Americans – David Bowie (#28, 1975)
65. A Change Is Gonna Come – Sam Cooke (#31, 1965)
66. Respect Yourself – the Staple Singers (#12, 1971)
67. Moondance – Van Morrison (did not chart, 1970; #92, 1977)
68. Where's the Love – Hanson (did not chart, 1997)
69. Don't You Worry 'Bout a Thing – Stevie Wonder (#16, 1974)
70. I Want Candy – Bow Wow Wow (#62, 1982)
71. Genius of Love – Tom Tom Club (#31, 1982)
72. Beautiful Stranger – Madonna (#19, 1999)
73. Shame, Shame, Shame – Shirley (& Company) (#12, 1975)
74. The Way I Am – Eminem (#58, 2000)
75. Jungle Love – The Time (#20, 1985)
76. Gypsy – Fleetwood Mac (#12, 1982)
77. Smile – Lily Allen (#49, 2007)
78. Tear the Roof off the Sucker (Give up the Funk) – Parliament (#15, 1976)
79. Same Love – Macklemore & Ryan Lewis featuring Mary Lambert (#11, 2013)
80. Solid – Ashford & Simpson (#12, 1985)
81. Rapper's Delight – The Sugarhill Gang (#36, 1980)
82. The Cup of Life – Ricky Martin (#60, 1998; #45, 1999)
83. Me, Myself and I – De La Soul (#34, 1989)
84. Bad Luck – Harold Melvin & the Blue Notes (#15, 1975)
85. Once in a Lifetime – Talking Heads (did not chart, 1981)
86. Fuck You – Lily Allen (#68, 2009)
87. Such Great Heights – The Postal Service (did not chart, 2003)
88. Can't Take My Eyes Off You (movie version) – Lauryn Hill (did not chart, 1998)
89. Dedication to My Ex (Miss That) – Lloyd featuring Andre 3000 (#79, 2011)
90. Jump To It – Aretha Franklin (#24, 1982)
91. Mamma Mia – Abba (#32, 1976)
92. Space Oddity – David Bowie (did not chart, 1969; #15, 1973)
93. P Control – O{+> (Prince) (did not chart, 1995)
94. Got Your Money – Ol' Dirty Bastard featuring Kelis (#33, 1999)
95. LDN – Lily Allen (did not chart, 2007)
96. It Doesn't Matter Anymore – Buddy Holly (#13, 1959)
97. Does Your Mother Know – Abba (#19, 1979)
98. Up in a Puff of Smoke – Polly Brown (#16, 1975)
99. Blue Limousine – Apollonia 6 (did not chart, 1984)
100. All the Young Dudes – Mott the Hoople (#37, 1972)
101. Fight the Power – Public Enemy (did not chart, 1989)
102. Pass That Dutch – Missy Elliott (#27, 2003)
103. Stacy's Mom – Fountains of Wayne (#21, 2003)
104. You Know I'm No Good – Amy Winehouse (#78, 2007; #77, 2008)

Click here to like Tunes du Jour on Facebook!
Follow me on Twitter: @TunesDuJour